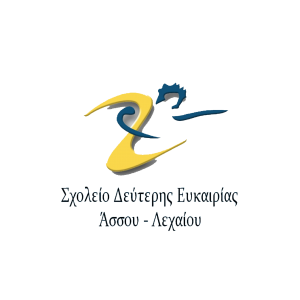 Assos - Lechaio Second Chance School is an adult public school founded in 2005.
Its goal is to fight social exclusion and therefore it offers psychological and professional counseling for its students. The curriculum offered at the school is flexible and open, adapted to the interests and needs of students, thus ensuring their active participation.
The main goals of the School are:
• restoring students to the education and training system and completing compulsory education;
• building a positive attitude to learning;
• acquisition of modern knowledge and skills;
• strengthening the personality by building trust and self-esteem;
• access to the labor market and professional improvement of the position of learners.
The services of the programme
The total duration of the programme is 18 months, i.e. two academic years. The weekly programme consists of 25 teaching hours and the courses take place during the evening, from Monday to Friday.
After successful completion, the trainees receive a certificate equivalent to secondary school diploma.
The courses being taught are:
Cultural - Aesthetic Education
Annually, the school educates about 50-60 people.
Teachers
Teachers at Assos - Lechaio Second Chance School are highly qualified in adult education and actively participating in lifelong learning practices. The innovation of the Second Chance Schools consists in creating consultancy services, including a Career Adviser and an Educational Psychologist in every school.
Practices and Methodologies
At Assos - Lechaio Second Chance School learner based methodologies compatible with adult education are adopted, such as role playing, group and peer to peer learning, brainstorming, problem solving, learning to learn etc. There are a number of good practices used in the school such as the use of optical and interactive material, like power-point presentations, videos and worksheets, a layout of the school desks suitable for adult and team learning, the use of a computer lab and experiential education. A novelty of Assos - Lechaio Second Chance School's curriculum, which helps promoting the school's objectives, is the inclusion of workshops and projects with various subjects based on the interests of learners.
Website: http://sde-lechaiou.kor.sch.gr/new/